Overview
Incident management is an important part of the IT Infrastructure Service(ITIS) or IT service management(ITSM). When a service is disrupted or fails to deliver the promised performance during normal service hours, it is essential to restore the service to normal operation as quickly as possible and incident management helps to keep the things in track.
How the incident management works
Standardize your incident management process: For each company, depending on the environments they have and the best practices they follow for each product or project the workflows vary. This incident management template covers the standard lifecycle of an incident and you can tweak it
Visualize ongoing incidents: See all the incidents on which your team is working on, their current status, and if there is any bottleneck.
Automate manual activities: Automate email when a task is completed in a stage. If certain conditions of the incident match automatically move them to another stage as required.
Stages for the ITIS Incident Management Workflow
An ITIS incident management process typically goes through the following stages -
Incident Reported(open)
Investigation
Work In Progress (WIP)
Solved
Testing
Closed
Hold
Canceled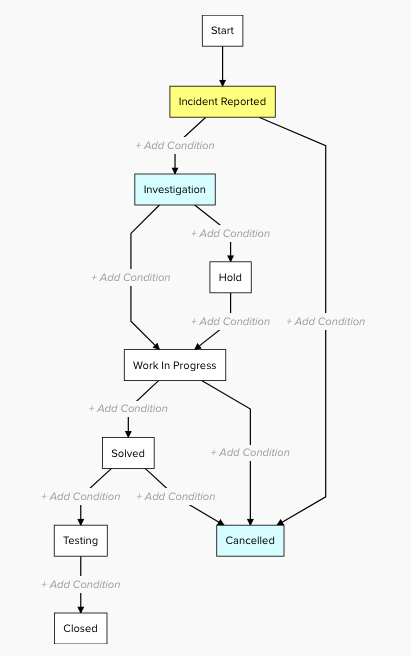 In this template, you can add and modify the stages and the tasks inside them as per your best practices easily. GoodFlow ensures the processes you need in your company besides ITIS process all are met and easily manageable.
With GoodFlow, you can design your own methods, tweak the flows, and implement best practices the way you like easily. Let's start with the template and start managing your incidents right away.